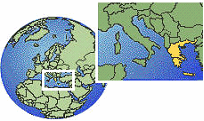 The first Olympic Games were held in Greece more than two thousand years ago. When the Modern Games were revived in 1896, founder Pierre de Coubertin again chose Athens as the host city. In 2004, the games will return to their birthplace for a third time.
Greece's official name is the Hellenic Republic. It gained independence from the Ottoman Empire in 1829. Greece is located in Southern Europe between Albania and Turkey. It has an area of 81,983 square miles, which is slightly smaller than Alabama. Greece has 8,947 miles of coastline and is made up of a mainland and about 2,000 islands scattered throughout the Aegean, Ionian and Mediterranean Seas, and the Sea of Crete.
Athens is the home of Acropolis Hill, where monuments dedicated to the Gods and Goddesses of Ancient Greece still stand. The Parthenon, dedicated to Athena, is one of its most famous monuments.
Modern people all over the world still learn from and enjoy the intellectual and cultural contributions of the philosophers and playwrights of Classical Greece.
There is a lot more to learn about Athens and Greece!
| | |
| --- | --- |
| Languages of Greece and the World | Facts, figures and maps of Greece |
Virtual Tours
Don't just read about Athens, see it! Visit the city and explore the sites of the Olympic Games on these virtual tour sites.