The U.S. Department of Health has these tips for Getting F.I.T.T., Looking Good and Feeling Fine
Frequency: Get active at least five times a week.
Intensity: Get your body revved up and your heart pumping.
Time: Spend at least 60 minutes doing a variety of activities.
Type: Do a variety of activities that work your body and fit your style; and, have some fun while you're at it!
Check out BAM! Body and Mind to learn more!
If you're really ready to get moving, take the President's Challenge. This program that encourages all Americans to make being active part of their everyday lives. No matter what your activity and fitness level, the President's Challenge can help motivate you to improve. Feeling good is easy, once you get moving! Visit Get Active Stay Active to build a fitness journal and earn awards and prizes. Once you get those muscles working, you might want to get to know them better. Click here for a poster you can download to learn the names of those Marvelous Muscles!

Eat Like a Champion
It is expected that six thousand meals will be served every hour at the Athens Olympic Village! Workers will plan and prepare special meals for athletes using the same recipes and foods they would eat in their home countries. All athletes need good nutrition for peak performance. Dr. Louise Burke of Australia has some suggested diets for athletes for peak performance.
The U.S. Department of Agriculture created the Food Guide Pyramid to help you choose foods that will give you the strength and energy to do your best!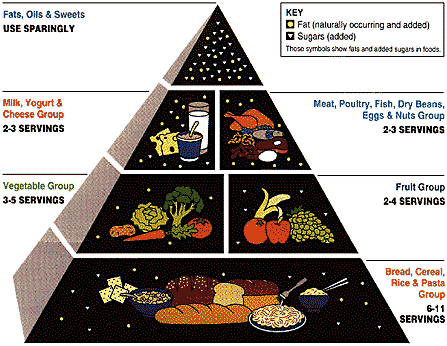 Another way to make smart food choices is to read the Nutrition Facts on the labels of canned and packaged foods. Check out what three fifth graders from San Diego, California, Anthony, Nick and Kris, and their teacher, Mrs. Woodfill, learned about Nutrition for Kids, or visit the Nutrition Café for fun & games.
Introducing Pyramid Pal, the Nutritional Champion of Kids!
Pyramid Pal is a 7-book set of easy-reader children's books that present the eating recommendations of the USDA Pyramid in a simple storybook rhyming format. Educational yet entertaining to read, the books are written to help children learn and adopt healthier eating patterns at an early age. Pyramid Pal takes the reader on a nutritional adventure through each of the food groups. The books are authored by Susan Dawson and Susan Norton, illustrated by Mark O'Hare, and available through Griffin Publishing.
Teachers: If you use the Pyramid Pal series in your classroom click here for lesson plans (340k .pdf document).
Don't Worry - Be Happy!
Stress is part of everyday living and it can affect our physical and mental well being. But don't get stressed out about it! There are lots of ways to reduce stress. You might know that regular exercise raises levels of stress reducing endorphins in the body, but did you know that a good laugh can do the same thing? Researchers at the University of California have learned that laughter, or even just looking forward to a funny event, increases the production of stress relieving endorphins and decreases levels of stress hormones in the body. Click here to learn more about "Laughing Out Loud to Good Health." Having someone to talk to about problems with reduces stress too. Talking with parents, teachers and friends can help you cope when life has you "stressed out." Kids and adults worry about a lot of the same things. Visit Your Life to learn more about how to deal with some common problems.
Teachers: check out these links for some healthy reading and lesson plans:
It's Up to You!
Your parents are two of the many factors that influence who you are. But while heredity may determine the body you start out with, the choices you make along the way play a big role in maintaining your body's ability to repair itself and fight disease. Caring for your body is a great investment - in you! Sometimes the things you don't do can have as powerful an affect on your health as the things you do. Athletes know that in order to perform their best they must avoid substances that harm the body. Click on these links to learn how the use of alcohol, tobacco and other drugs can seriously affect your health and other areas of your life.