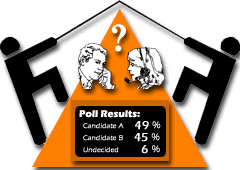 As candidates wind their way along the campaign trail, how can they tell whether the public plans to support them in the election? They rely on polls, which are sets of questions asked to members of the public, so that they may review public opinion and predict election results. Many different organizations, such as newspapers, special interest groups, universities, public opinion analysts, and the candidates themselves, conduct polls to reveal how the public views the candidates and their stands on the issues.
These polls aren't always accurate. In fact, you might see different results to similar questions depending on the methods used to design the questions, survey the population, and calculate the results. It is very important that pollsters conduct their surveys carefully to achieve accurate and credible results.
Candidates who do well in opinion polls hope that the results will influence the general public, but it is hard to tell whether people rely on poll results to make their decisions at the ballot box.

| | | |
| --- | --- | --- |
| | For a closer look at opinion polls, visit the Annenberg/CPB Exhibits Collection for a terrific online exhibition about statistics and polling, Polls: What Do the Numbers Tell Us? Follow two mayoral candidates on the campaign trail as they closely watch the results of opinion polls. Explore the importance of random sampling, margins of error, confidence levels, and more. | |
Want to know more?

Educators, try these lesson plans and activities in class!